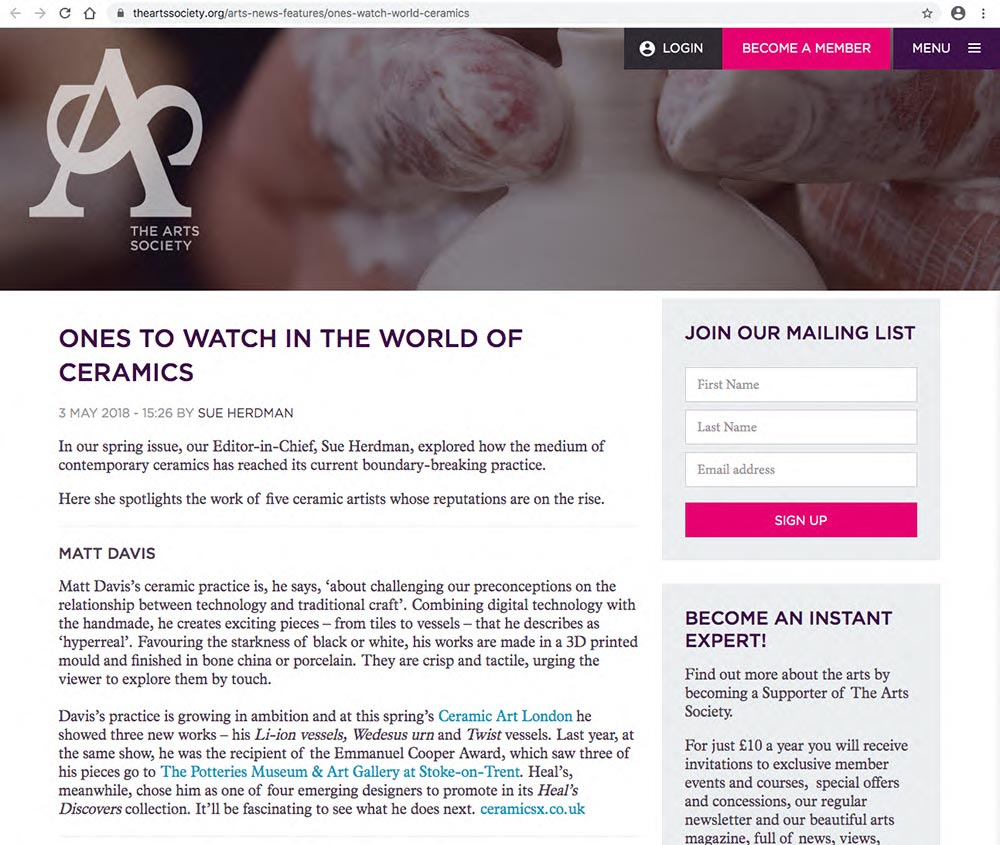 In our spring issue, our Editor-in-Chief, Sue Herdman, explored how the medium of contemporary ceramics has reached its current boundary-breaking practice.
Here she spotlights the work of five ceramic artists whose reputations are on the rise.
MATT DAVIS
Matt Davis's ceramic practice is, he says, 'about challenging our preconceptions on the relationship between technology and traditional craft'. Combining digital technology with the handmade, he creates exciting pieces – from tiles to vessels – that he describes as 'hyperreal'. Favouring the starkness of black or white, his works are made in a 3D printed mould and finished in bone china or porcelain. They are crisp and tactile, urging the viewer to explore them by touch.
Davis's practice is growing in ambition and at this spring's Ceramic Art London he showed three new works – his Li-ion vessels, Wedesus urn and Twist vessels. Last year, at the same show, he was the recipient of the Emmanuel Cooper Award, which saw three of his pieces go to The Potteries Museum & Art Gallery at Stoke-on-Trent. Heal's, meanwhile, chose him as one of four emerging designers to promote in its Heal's Discovers collection. It'll be fascinating to see what he does next. ceramicsx.co.uk
https://theartssociety.org/arts-news-features/ones-watch-world-ceramics